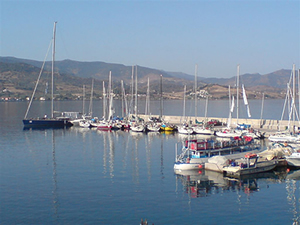 On the northwest side of the island 55 km from the capital of Mitilini, and 5 km before the Town of Molivos, one finds Petra, this village has a marvellous sundy beach 2Km in length. Also in the same area you'll find Skoutaro, Lafiona, and the settlements of Petri and Anaxos, traditional villages with stone houses, running waters and lush vegetation.
The birthplace of many notables in the arts and letters, such as Thrasyvoulos Stavrou, Neoklis Kazazis, Takis Eleftheriadis, Orestis Kanellis,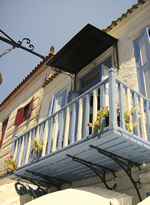 et al, it's well known today for its active Cultural Center and its library housed in the neoclassical stone building of the former Girls' Academy. 
In the centre of village there is a huge rock which stands as a giant and above on the top the resplendent temple of Virgin Mary of Glykofilousas (Patron Saint of Petra village) is built, the 114 steps bring you in altitude of 40 mt. in order to pray and admire the magestic landscape and the dew of the Aegean Sea. 
Another sight is the temple of Saint Nikolaos, preserved monument, the wooden mansion of Vareltzidenas that is also unique in Lesvos. 
Petra has a marvelous sandy beach with hotels, rooms, colorful tavernas, trendy bars, and restaurants. It's a lively place, day and night, and perfect for family holidays. Organized beaches in scenic bays provide umbrellas and lounges, beach-side service and water sports. Beautiful stone mansions with gardens filled with jasmine, palm trees and fruit trees give the village a particular elegance.

Petra is especially popular with painters, writers and poets, and its old landed gentry add a note of nobility. This was the birthplace of painter Orestes Kanellis. The family of the naïf painter Niki Eleftheriadi owns an excellent private collection of Çanakkale pottery – but it is not yet open to the public. The market district of Petra is very picturesque with little shops perfect for browsing and souvenir hunting.
In Petra you'll find a post office, banks, hotels rooms to rent, clubs, bars, restaurants & tavernas. Also you'll find the famous ouzo factory of Kouroumihali founded in 1884.